Orwell Family Health Center welcoming new patients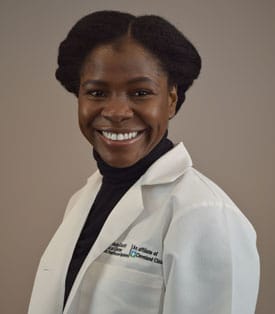 Orwell Family Health Center now has a new primary care team - ACMC Family Medicine specialists Adeola Fakolade, MD, and Peggie Reinhardt, NP, are welcoming new patients to the office at 8220 State Route 45. Family Medicine and Geriatric Specialist Catherine Bishop, DO, also sees patients in Orwell.
Prior to joining ACMC in 2020, Dr. Fakolade completed a preventative medicine and public health fellowship at Case Western Reserve University/University Hospitals Cleveland Medical Center where she focused on primary care in rural Ohio and developed strategies to combat diabetes. She has worked with veterans dealing with hypertension and diabetes. She has a special interest in general primary care, preventative screenings, hypertension, diabetes mellitus, smoking cessation, weight management, basic joint injections, cryotherapy, and female examinations.
Ms. Reinhardt joined ACMC in 2014 and has seen patients in Express Care and provider offices in Ashtabula, Conneaut, and Jefferson.
She has a special interest in chronic health maintenance for diabetes, hypertension, anemia, thyroid conditions, depression and anxiety, acute illness. She also performs physicals and immunizations.
Primary care providers are often the first to recognize symptoms and risk factors of chronic conditions that may require referral to a specialist. As part of the largest network of providers in Ashtabula County, ACMC's primary care providers can connect you directly with an ACMC or Cleveland Clinic specialist—many of whom see patients here in Ashtabula County.
The care team model pairs a physician with a nurse practitioner who share patients and collaborate on diagnosis, care, and treatment. The model gives patients the opportunity to become established with a primary care physician, while also having quick access to appointments with a nurse practitioner. By choosing an ACMC primary care provider, you get a provider backed by the strengths, resources, and services of ACMC Healthcare System.
To schedule an appointment at Orwell Family Health Center, please call 440-437-3300 or 440-997-6969.