MFG Foundation Funds GlideScope for ACMC Surgery Department
Hospital news
|
Friday, May 6, 2022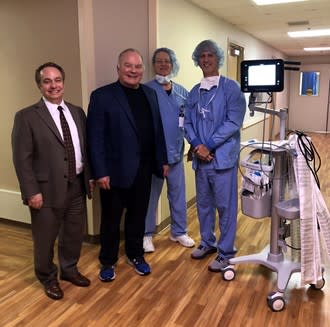 Richard Morrison, President and CEO of Molded Fiber Glass, and the MFG Foundation recently joined with Ashtabula County Medical Center to help improve patient care.
The MFG Foundation funded the purchase of a GlideScope to help visualize and manage airways during surgery and other procedures. The equipment is used by the Anesthesia team for intubations and bronchoscopes, giving them advanced imaging technology to navigate and secure airways. In addition to adding safety for patients, the equipment offers enhanced safety and efficiency for caregivers. The use of the new GlideScope minimizes close contact during an intubation and increases efficiency.
"Through the generous support of Mr. Morrison and the MFG Foundation, surgical patients will now benefit from the safety and advanced technology that the GlideScope provides, and for that we are grateful," said ACMC President and CEO Michael Habowski.
The equipment is used primarily in surgery and is also used to support patient care in the Intensive Care Unit and Emergency Department.