ACMC presents Daisy Awards; patients recognize nurses for 'caring' and 'professionalism'
Hospital news
|
Friday, June 11, 2021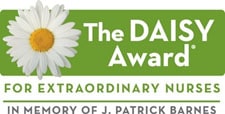 Eight Ashtabula County Medical Center nurses were recently honored for patient care during special presentations of the DAISY Award. Nurses who received the award for care provided in 2020 are: Sharon Barber, RN; Jacki DiFiore, DNP, MHA, RN, NEA-BC; Rebecca Hasenauer, RN: Sherry Hernandez, RN: Sharon Mead, RN; Clare Opron, RN; Jennifer Sanford, RN; and Heidi Ward, RN.
The common thread running through each nomination was compassionate care delivered with a focus on the patient's comfort, as well as mental and physical well-being.
"All of our DAISY Award honorees focus on connecting with the patient as a person and being a reassuring and comforting voice during a time when patients are most vulnerable," said ACMC President and CEO Michael Habowski. "When I read the comments from patients or I talk with them or family members, it is clear that our nurses make a point of being present in the moment with their patients. To these nurses, their work at ACMC is not just a career, it's a calling – and one they live out with every patient."
The DAISY Award for Extraordinary Nurses honors nurses who provide skillful and compassionate care. It is a national program created in 1999 by family members who wanted to honor nurses like those who cared for Patrick Barnes, who died from an autoimmune disease after eight weeks in a hospital. DAISY stands for Diseases Attacking the Immune System. Nurses are nominated for the DAISY Award by patients, family members, or others who see the care they deliver.
Each nomination specifies why that nurse is being recognized, but the nominations for all of the honorees mentioned that the ACMC nurses are kind, compassionate, and caring; treat patients with understanding; go out of the way to find solutions or answers for patients.
"Our caregivers are what make ACMC. I'm proud of everyone who works at ACMC, and I am especially proud of those honored with the DAISY Award," said Habowski.