ACMC nurses present $5,374 check to Good Karma Kitchen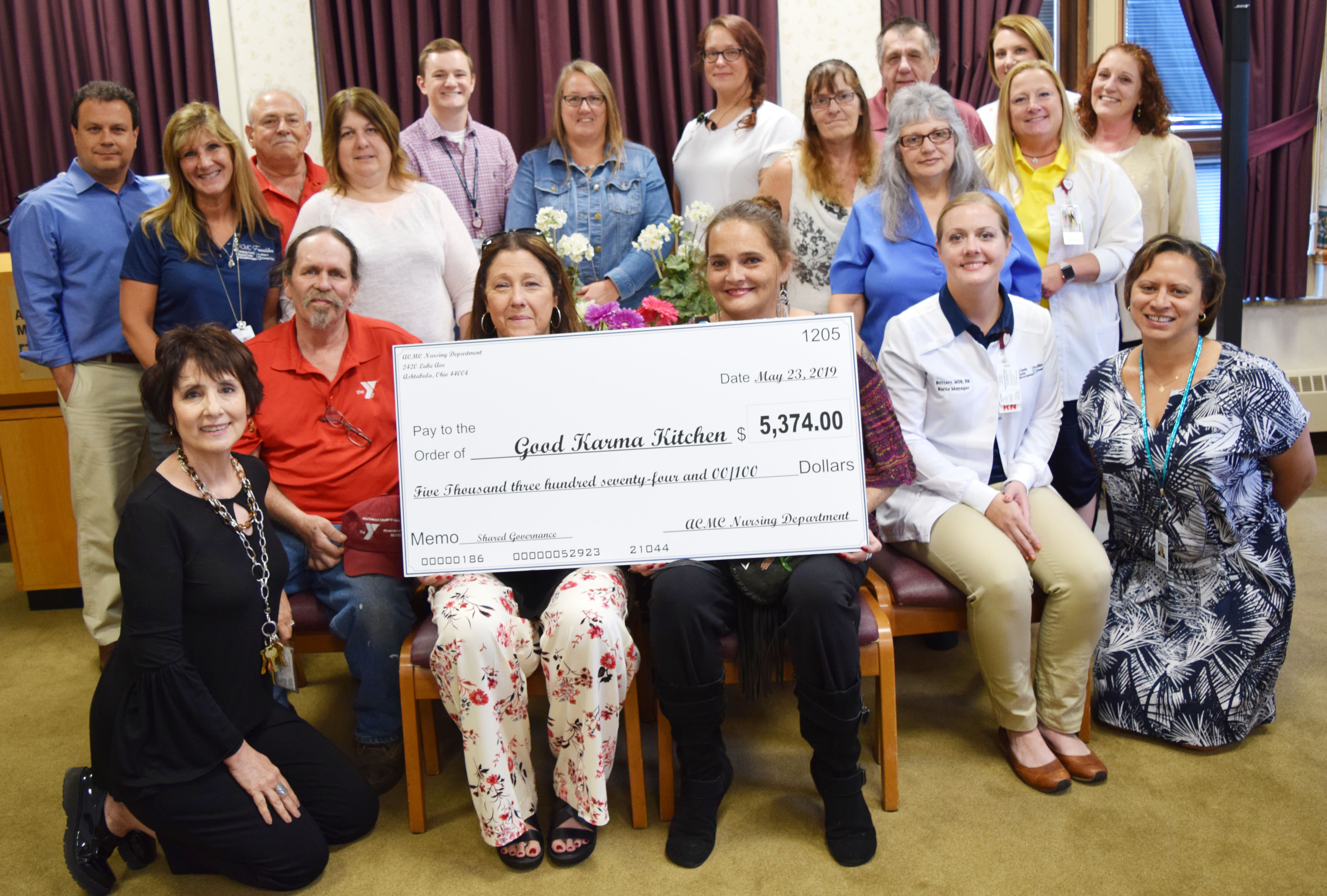 When Ashtabula County Medical Center's Shared Governance Council wanted to provide support to a local community group, they needed look no farther than their Lake Avenue neighbors at Good Karma Kitchen. The local soup kitchen, in the basement of St. Jospeh's Church, was well-known to ACMC nurses who toured it while taking part in LEADERship Ashtabula County.
"We were both touched by the good they are doing for the community and how they use their resources to provide meals at a very low cost," said ACMC Chief Nursing Officer Jacquelyn DiFiore, DNP, MHA, RN, NEA-BC.
Good Karma Kitchen Director Bobbie Eastman said their cost averages about $1 per meal. The facility feeds about 40 people per day.
With a goal of $500 in mind, ACMC's Shared Governance Council and nurses gathered items for a gift basket raffle, eventually bringing together enough items for 14 gift baskets. The first day of the raffle, they raised more than $1,000. After the final tickets sold, ACMC presented a check to Good Karma Kitchen for $5,374.
"Oh my. Oh my!" Eastman said as tears began to flow when she saw the check amount. "You don't know what this means. Well, it means many, many meals for the people who need them in our community, but this mean so much more than that to us. We love you, all."
Good Karma Kitchen began six years ago and has been a primary meal site for those who may not have access to daily meals.
"As nurses, we know how to take care of people and we know the value of good nutrition," said ACMC Nursing Administration Project Coordinator Tracy Mead, RN. "We are glad to support Good Karma Kitchen which helps take care of people by providing nutritious meals."
ACMC Volunteer Auxiliary Supervisor Sandy Sposito, RN, said she is proud of the ACMC nursing staff for leading the fundraising effort and also proud of the community which supported it by buying tickets. "Tickets were sold at the hospital, but so many who bought tickets were patients, families, and other visitors. Many people said to just take the money and keep the tickets. They know the good that Good Karma Kitchen does. Goodness permeates this whole county."
This isn't the first time ACMC caregivers have helped Good Karma Kitchen. Money was given to purchase a new refrigerator several years ago.
ACMC's Shared Governance Council is the hospital's nursing council, which assists with decision-making for policy and procedure issues, as well as collaboration to improve patient care and caregiver job satisfaction. Members of the council are DiFiore, Tracy Mead, RN; Nichole Engelmann, RN; Mary Jo Geissler, RN; Nedia Landry, RN; Matt Barber, RN; Elizabeth Wright, RN; Heather Staley, RN: Nicole Aponte, RN; Regina Elam, RN; Diana Steen, RN; Barb Gross, RN; Heidi Ward, RN; and Ruth Ann Gilbert, RN.